Li Po (Li Bai) – Daoist Sage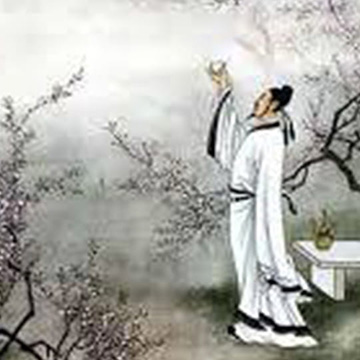 (1908–2013) Li Po first made contact in the early 1980s and has generously helped me since.
For 40 years until his death at 105 years old he was unsurpassed on the Earth in his experience of the spiritual dimensions. He served as a link, for those who had need of it, to the deeper realms of the world wide way.
He died in Xinjiang, China on 16th August 2013, exactly as he had told me he would 10 years earlier.
Speaking of him Shaikh Abdullah said, "He is the Keeper of the Earth – the head of the Daoist and Buddhist teachings."

Mouni Maharaj of Merta City, simply said, "He is close to the Buddha."

Master Ni Hua-Ching confirmed, "He is unsurpassed on the Earth – the bridge to another world. It is Li Bai the famous poet who has come again."
Lǐ Bái 李白 (701–762)
At 19 he left home and lived with a Daoist Sage. After a time of wandering he married and lived with his wife's family. Then he lived briefly as a poet in the Tang court in Chang'an. He decided to return to a life of Daoist study and poetry writing.

During these wanderings in 744 he met Tu Fu, another very famous poet of the period. In 756, Li Po became an official poet laureate to Prince Lin. The prince was soon accused of intending to set up an independent kingdom and was executed. Li Po was arrested and imprisoned, but a high official looked into Li Po's case. The high official had Li Po released and made him a staff secretary.

In the summer of 758 the charges were revived. Li Po was banished to Yeh-lang. Li Po frequently celebrated the joy of drinking. According to legend, Li Po drowned in 762 while drunkenly leaning from a boat to embrace the moon's reflection on the water.

Most of Li Po's works are lost, but almost 2000 poems were collected in 1080. Li Po is best known for his pieces describing voyages through imaginary landscapes. He preferred older poetic forms such as songs or ballads. Some themes expressed in Li Po's works are the sorrows of those seperated by the demands of duty and the relief found in wine.

Those who understand the imagery will know that this refers not to alcohol but to the wine of spiritual ecstasy (as for the Sufi writers e.g. Omar Khayyam). He also wrote about friendship, solitude, the passage of time and the joys of nature.

Some of his works are "Saying Goodbye to Meng-Hao Ran", "Leaving a Friend", "Bitter Love", "River Trip from Bai Di", "The River Merchant's Wife", "Down the Mountain", Li Po Alone Drinking" and many more.

From the Columbia Book of Chinese Poetry: "Li Po was probably the greatest of the Chinese poets of premodern times. It is generally agreed that he and Tu Fu raised the shih form to its highest level of power and expressiveness; later poets at times approached but never surpassed them.

Li Po's distinction lies in the fact that he brings an unparalleled grace and eloquence to his treament of the traditional themes, a flow and grandeur that lift his work far above mere immitation of the past. Another characteristic of his poetry is the air of playfulness, hyperbole and outright fantasy that infuses much of it."
Drinking Alone with the Moon

From a pot of wine among the flowers
I drank alone.There was no one with me --
Till raising my cup, I ask the bright moon
To bring me my shadow and make us three.
Alas, the moon was unable to drink
And my shadow tagged me vacantly;
But still for a while I had these friends
To cheer me through the end of spring....
I sang. The moon encouraged me
I danced. My shadow tumbled after.
As long as I knew, we were born companions.
And then I was drunk, and we lost one another.
....Shall goodwill ever be secure?
I watch the long road of the River of Stars.

Li Po.

(Note: The shadow symbolises the Etheric Body, the moon symbolises the Astral Body, the "I" symbolises the Celestial Deepmind Intelligence, while being drunk symbolises the escape from the 3 worlds of human existence.)